Parents-to-be often spend a considerable amount of time and effort in designing the perfect nursery for their little one. From choosing the right crib to picking the perfect color scheme, every detail is carefully thought out.
One of the most exciting aspects of designing a nursery is selecting a theme that reflects the parents' style and personality while also creating a cozy and inviting space for the baby.
In recent years, there have been various trends in nursery themes that have become increasingly popular. One of the most significant trends is the use of neutral colors such as beige, gray, and white.
These colors create a calming and relaxing environment that is perfect for a baby's room. Additionally, neutral colors allow parents to add pops of color through accessories and decor, making it easy to change the room's look as the baby grows.
Another trend that has gained popularity is the use of nature-inspired themes. From woodland creatures to floral patterns, nature-inspired themes create a serene and peaceful atmosphere that is perfect for a baby's room.
These themes often incorporate natural elements such as wood and greenery, making the space feel warm and inviting.
Lindsay Lohan welcomed her first child Luai to the world on July 17th, with the happy news announced just days after the star gave fans a glimpse into her sons' ocean-inspired nursery.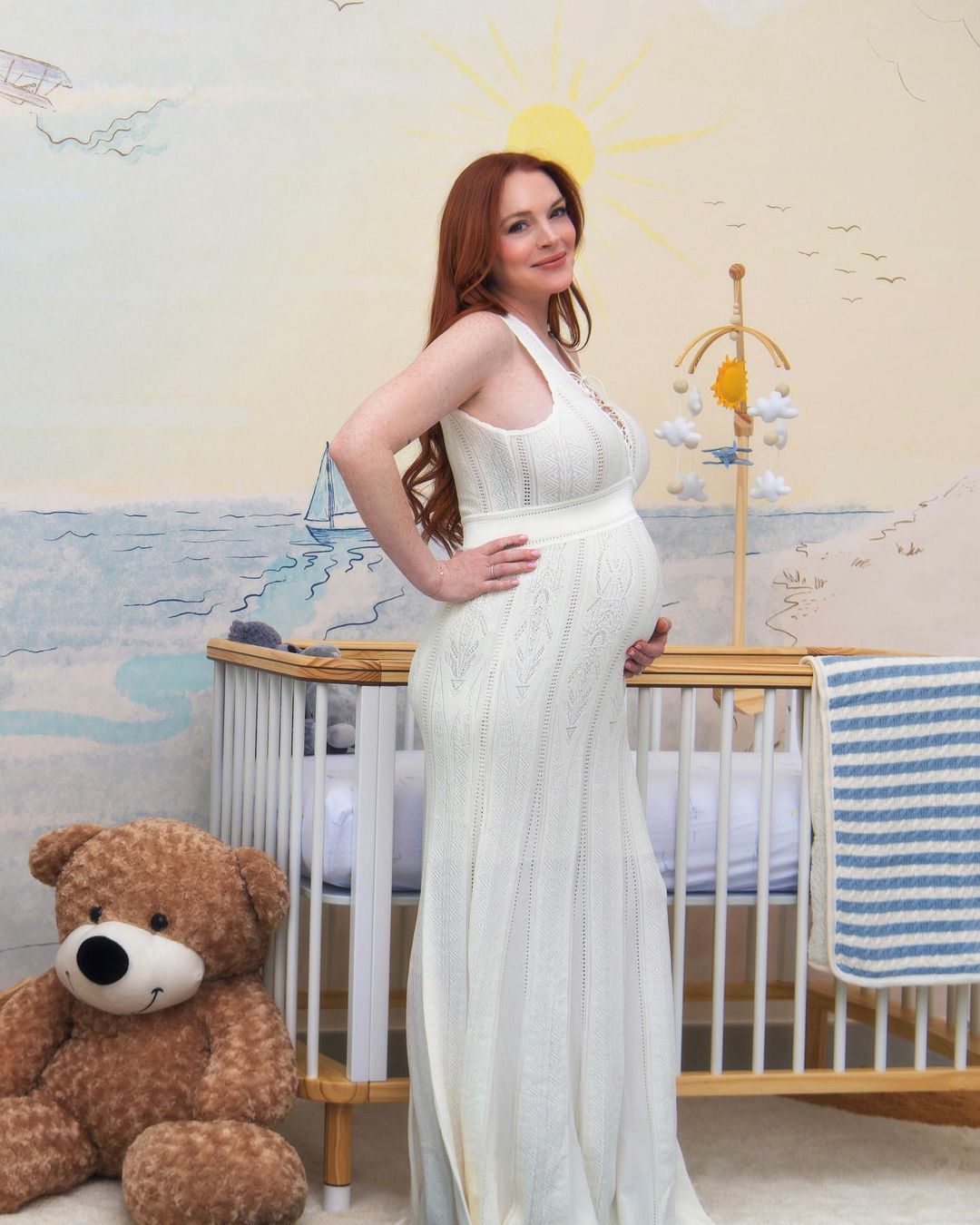 Image credit: Instagram @lindsaylohan
In a recent interview with Architectural Digest, the new mom said her nursery inspiration within her Dubai home came from her love of the ocean, "I feel so peaceful by the ocean – I wanted to create a space my little one and I could share in that feeling."
Understanding Nursery Themes
When it comes to designing a nursery, choosing a theme can be a fun and exciting process. A theme can help tie together the decor and create a cohesive look and feel in the room. Here are a few things to keep in mind when selecting a nursery theme:
Consider the Gender
While some parents prefer to keep the gender of their baby a surprise until birth, others may want to incorporate gender-specific themes into the nursery. Traditional themes for boys include sports, cars, and animals, while girls' themes may feature flowers, princesses, or unicorns.
However, it's important to remember that gender-neutral themes are becoming increasingly popular and can be a great option for parents who want to keep things neutral.
Think about the Color Scheme
The colors you choose for the nursery can have a big impact on the overall look and feel of the room. If you have a theme in mind, consider selecting colors that complement it. For example, a nautical theme may feature shades of blue and white, while a woodland theme may incorporate earthy tones like green and brown.
Keep it Simple
While it can be tempting to go all out with a theme, it's important to remember that less is often more. Too many decorations or patterns can make the room feel cluttered and overwhelming. Instead, focus on a few key pieces that tie in with the theme, such as a crib sheet or wall art.
Personalize it
Finally, don't be afraid to add personal touches to the nursery. Whether it's a family heirloom or a handmade gift from a loved one, incorporating sentimental items into the decor can make the room feel extra special.
Top Trends for Nursery Themes
Your nursery needs to be a calming space, as well as mentally stimulating, and should contain all the essential items you'll require without feeling too crowded, which can make decorating overwhelming for expectant parents preparing for the arrival of their little one.
To lend a helping hand and offer some inspiration, the team at Your Baby Club have scoured social media to find the top interior trends to help assist you in decorating your home nursery, and unsurprisingly Lindsay's nautical inspired nursery emerged as one of the top trends. 
Neutral Nursery 
Crisp, clean and comforting, neutral nurseries are proving extremely popular on social media. Google searches for 'neutral nursery' have increased by 284% over the past 12 months.
While over on TikTok the hashtag #neutralnursey has amassed a colossal 72.7 million views, proving that it's a top trend for the season ahead. 
Soft muted color palettes, like beige, white, and grey are the core of neutral nurseries. These colors provide a blank canvas for you to be creative with personal touches and additions once the little one arrives.
To add a touch of color, sage greens, pastels, ivory, and taupe are a few options that still stick to the neutral scheme but can be adapted as your baby grows and starts to develop their own personality. 
​​Forest Theme 
Wood accents, natural textures, graphic wallpaper, and woodland creatures are all elements of a forest themed nursery.
It seems that the whimsical woodland theme is definitely a top trend of the year for those looking for online inspiration too, with Pinterest searches up by 156%. 
Top tip: "To bring a touch of true nature into the space, indoor plants can be the perfect option. Not only do they look great, but they can also remove toxins from the air, as they are natural air purifiers. Plants safe to decorate nurseries with include the parlor palm, spider plant, and money tree."
Vintage Nursery 
The aim is to create a space that feels safe, welcoming, and tranquil for your little one. By incorporating a touch of tradition using floral print wallpaper, blush pinks, sage greens, and wooden accents you can bring a rustic, vintage feel to your space.
These tones and colors will look great when paired with brushed copper accessories, old-fashioned photos, Persian rugs, and vintage children's toys, like rocking horses, dolls, and teddy bears.
Searches on Google have increased by 92% over the past 12 months for vintage nursery inspiration. The trend is timeless and can be easily adapted to your own personal taste.
Celestial Theme 
Stargazers, do we have the nursery theme for you! The celestial theme isn't uncommon for a nursery, having been embraced by nature and astrology lovers alike.
It's a fun gender neutral theme that can incorporate the sun, moon, stars, and planets.
The color and movement of the reflective stars, solar system aspects, and twinkle lights are interactive features that will stimulate your baby's brain from the day you bring them home. On Pinterest, searches are up 169% for 'celestial nursery', while over on TikTok the hashtag #celestial has gained 515.1 million views.
In the Clouds
Floating clouds and hot air balloons are a huge trend this year. Soon-to-be parents are looking for creative ways to incorporate dreamy, in-the-sky aspects into their nurseries, to add a tranquil feel to the space.
Fluffy clouds and floating hot air balloons can be hung from the ceiling, and LED clouds mounted onto the wall to add character and uniqueness to the room. 
Demand for 'cloud nursery' inspiration is up on Pinterest, with a search increase of 122% over the last 12 months – proving just how popular this trend is set to be.
Nautical Nursery
The ocean-inspired nursery trend has resurfaced once again, with searches up by 154% on Pinterest in the last three months alone. Think clean whites, deep dark shades of navy, and accents of red, paired with sea creatures, boats, and anchors.
It's not just the nautical theme that is trending, all things under the sea are creating a storm on social media, with a heavy focus on sea life, from crabs, dolphins, and fish to sand and shells.
We noticed demand for this trend increased when the new The Little Mermaid movie was released, as it inspired a new love for sealife and ocean themes.
Boho Baby
From indoor plants to natural fiber rugs, wooden furniture, and macrame wall hangings, the boho interior trend is easy to replicate in your nursery. The theme is about bringing together shades of beige and cream with soft browns and light oak furnishings.
The bohemian style is becoming increasingly popular, as the neutral palette and soft features create a calming and relaxing atmosphere for new babies. 
Choosing the Right Theme
When it comes to designing a nursery, choosing the right theme is an essential step. A well-chosen theme can help create a cohesive and inviting space for both the baby and parents. Here are some things to consider when selecting the perfect theme for your nursery.
Consider Your Personal Style
The first thing to consider is your personal style. The theme you choose should reflect your taste and preferences. If you love bright colors and bold patterns, consider a theme that incorporates those elements.
On the other hand, if you prefer a more subdued and elegant look, opt for a theme with a softer color palette and classic patterns.
Think About Longevity
Another important factor to consider is longevity. While it may be tempting to choose a trendy theme, keep in mind that your baby will quickly outgrow it.
Instead, choose a theme that can grow with your child. For example, a nature-inspired theme can be adapted to fit different ages and stages.
Incorporate Educational Elements
Finally, consider incorporating educational elements into your nursery theme. This can include things like numbers, letters, animals, or even maps.
Not only will these elements help stimulate your baby's brain, but they can also make learning fun and engaging.
In conclusion, choosing the right theme for your nursery is an important decision. By considering your personal style, longevity, and educational elements, you can create a space that both you and your baby will love.
Implementing Your Chosen Theme
When it comes to nursery themes, choosing the right one is just the beginning. Implementing your chosen theme is what will really bring the room to life.
Here are some tips for making your nursery theme a reality.
Choosing the Right Colors
Colors play a crucial role in setting the tone for your nursery theme. Consider the emotions and mood you want to evoke when selecting your color palette.
For example, if you're going for a calming and soothing theme, pastel colors such as light blues, greens, and yellows may be the way to go. On the other hand, if you want a more vibrant and stimulating theme, bold colors such as reds, oranges, and purples may be more appropriate.
Selecting the Perfect Furniture
Your furniture choices can either complement or clash with your nursery theme. When selecting furniture, consider the style and color of each piece. If you're going for a rustic theme, for example, wooden furniture with a distressed finish would be a great choice.
If you're going for a modern theme, sleek and minimalistic furniture may be more fitting. It's also important to consider the functionality of each piece, such as a changing table with ample storage space.
Adding Decorative Elements
Decorative elements are what really tie a nursery theme together. Wall art, bedding, and accessories such as lamps and rugs can all contribute to the overall look and feel of the room.
When selecting decorative elements, make sure they align with your chosen theme and color palette. For example, if you're going for a jungle theme, animal prints and greenery would be great additions.
By following these tips, you can successfully implement your chosen nursery theme and create a cohesive and visually appealing space for your little one.
Conclusion
In conclusion, choosing a nursery theme is an exciting process for parents-to-be. With so many options available, it can be overwhelming to decide on the perfect theme.
By staying up-to-date on the latest trends, parents can create a stylish and functional space for their little one to grow and thrive. Whether opting for a classic theme like woodland or going for something more unique like outer space, there are endless possibilities to choose from.
It's important to keep in mind that the nursery theme should reflect the parents' personal style and preferences, while also being practical and comfortable for the baby. By incorporating key elements like soft lighting, comfortable seating, and plenty of storage, parents can create a space that's both beautiful and functional.
Overall, the top trends for nursery themes in 2023 include gender-neutral designs, natural materials, bold colors, and playful patterns. By incorporating these elements into their nursery design, parents can create a space that's both stylish and functional for their little one.