I'm so excited for the upcoming Christmas season now as a family of 2. Last year we had a 5 month old so we didn't start too many traditions because our daughter was still too young to get anything out of it. This year she's a walking, talking machine and will be 17 months, so I can't wait to start making Christmas memories with her.
Here are some ideas for Christmas traditions you can start with your family. I'm going to try to check as many of these off my bucket list this year.
1. Go to a tree farm to chop down your tree
Every family has the preference of real tree vs. fake tree. I'm partial to a fake tree because I have toddlers and don't need them shaking down all the pine needles from the tree. However, the smell of a real tree that you picked yourself is like no other.
Many families like to choose a day where they always go to the tree farm to pick their tree. Typically it's right after Thanksgiving or whenever you plan to get your house set up for Christmas.
2. Make hot cocoa
What kid doesn't love some hot cocoa during the holidays? It's one thing that I remember a lot about my childhood and making sure that I got as many marshmallows stuffed into that mug as possible.
Get festive with fun hot cocoa flavors like peppermint or caramel and spruce it up with extra marshmallows, candy canes, chocolate syrup or sprinkles.
3. Watch Christmas movies
Make some popcorn and grab your hot cocoa and sit down for some nights of classic Christmas movies. For little kids and big ones, there's always something for everyone.
Watch classics like Miracle on 34th Street, Elf, How the Grinch Stole Christmas, Home Alone, The Polar Express, A Christmas Carol, Jack Frost, Christmas Vacation, The Santa Clause, A Christmas Story, etc. Check out this list of the best Christmas movies of all time to watch with your family.
4. See a Christmas tree lighting in a local city or town square
Most cities have an annual Christmas tree lighting even the small ones. Your children will love seeing the huge tree being lit and all the other activities and festivities that the city council may have to offer.
5. Make donations of old clothes or toys to people and children in need
The holiday season is surely a time to give and receive. A great way to get in the spirit is to give to those less fortunate.
Need to clear out some clothing closets, toy bins, or drawers for all the upcoming gifts? This is the perfect reason to do it!
Donate some of these old items that you and your child don't use anymore and get your kids in on the giving too. If you're fortunate enough to be able to purchase new gifts for families in need or charities, that's a great idea too.
6. Santa Claus Train Ride
A longtime Christmas tradition is the Santa trains. Sit on an old-fashioned steam train and take a ride with Santa and his helpers. You can usually find these in various areas in your state.
Google your local "Polar Express" & Christmas train rides with Santa that the kids will love! These events book up early so don't wait!
7. Kindness Elves
The Kindness Elves are a new spin on Elf on the Shelf with a sweet twist. The Elves leave your child notes with acts of kindness to participate in.
This is a really great concept that gives children the true meaning of Christmas and how to be giving and a good person. I hope that more children will be using these elves.
8. Breakfast with Santa
Breakfast with Santa is a long time tradition that many establishments have to offer. Whether it's your local diner, Applebee's, fire station, or school, you can see Santa at so many different places this holiday season.
These events usually give small donations to charities, offer photos with Santa, and include a scrumptious breakfast for families.
9. Give your child their own felt tree to decorate and play with
Any young child from babies to preschoolers will absolutely love using a felt Christmas tree! You can position it close to your own tree or anywhere in your home.
These felt trees allow your young one to "decorate" their own tree instead of playing with the fragile ornaments on your real tree. They'll love taking the pieces on and off while learning all about the different ornaments and developing fine motor skills.
10. Volunteer your time together
It's a lovely idea to volunteer your time during the holidays and taking your children with you is a great way to teach them these values too. Contact your local homeless shelter, food bank, nursing home, or hospital to see if they could use your help.
11. Drive around to see the Christmas lights
There are some people that go all out on their Christmas lights and decorations. It's amazing to see some of these houses set to music or with your child's favorite characters. Look up houses in your area that are listed for having the best festive light displays.
12. Make a gingerbread house
Put together a gingerbread house with your child. It's something that children of any age will love. The little ones may need some more help than older children, but they'll all love the finished product! Just make sure they don't sneak all the candies before they're done!
13. Elf on the shelf
This elf on the shelf tradition has been around for awhile now. Keep your child on their toes as you bring an elf into the house and tell them that they're reporting back to Santa every night.
This is a great tactic to get them to behave, but it has even become a fun time for the adults too! You get to plan fun, sneaky activities that your elf can get himself into overnight and your little one will be amazed by their elf's antics.
From getting into the toothpaste to soaring from the ceiling fan, your child will find their elf in a new position every morning and be so amazed. Check out how to make your elf's entrance special with these free printable welcome letters and awesome ideas for your elf on the shelf every night.
14. Decorate the tree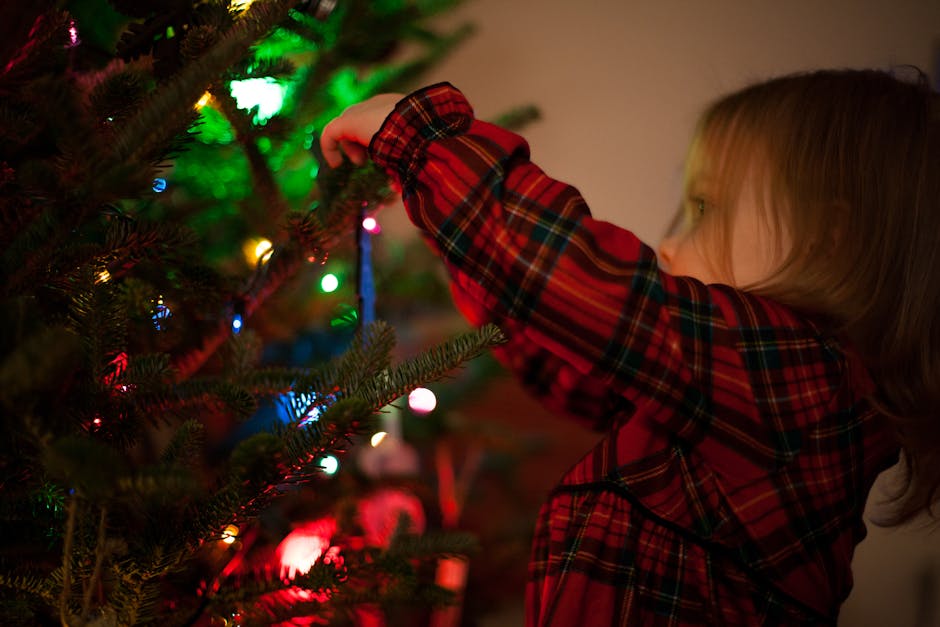 I'm sure this is one of your typical family Christmas traditions, but make this event extra special by adding more fun elements to it. You can wear your matching Christmas pajamas, blast Christmas tunes, or reminisce on each ornament and the significance it has to your family.
15. Put up all your home decorations together
Decorating the house can take a whole weekend if you're one of those families who goes all out. Let this be a special time to spend together as a family as you reinvent your home into a Christmas wonderland.
16. Get a new ornament every year or make one
The ornament can symbolize something that has happened the past year, something your children have accomplished, a new hobby, or something they enjoy.  I also like to get a family photo ornament every year so we can look back and see how our family has grown through the years.  
You can choose a family ornament that just shows the people in your family or customize an ornament that has your family's whole photo in it.
17. Attend Mass/Church
Bring back the reason that this holiday began and put Christ back in Christmas for your children and family. It's important to remember what we're celebrating this season, not just the presents and gingerbread.
18. Sing Christmas carols
There are so many Christmas carols that your family can learn and sing together. Whether they're classic, religious songs or simple pop Christmas hits, your child will love belting out their favorite Christmas tunes.
19. Bake Christmas cookies
Oh the smell of homemade cookies baking in the oven is such a fond memory of childhood for most kids. That same scent at Christmas time just makes it all the better.
Cook up your child's favorite cookies like gingerbread, sugar, or anything they wish and have them decorate them exactly how they'd like. Load up on the icing, sprinkles, and decorations because it's Christmas time!
20. Write a letter to Santa and send it to the North Pole
Texts from Santa and Emails to Santa are great websites that offer free communication with Santa! Your child will be amazed when they see that they can actually communicate with Santa and tell them what they want.
If you'd like to do it the old fashioned way, have them write a letter to Santa with one of these cute templates and send it on it's way to the North Pole.
21. Take pictures with Santa
Of course this is a family Christmas tradition that will never die. Get your classic photos with Santa at any mall near you. You can also find photo opportunities with Santa at other events in your community, just check out your local Christmas events.
22. Wear matching family Christmas pajamas
This has been a trending Christmas tradition for families, especially because you need that matching family photo for your social media feed! Find some adorable matching family Christmas pajamas at Target and wear them Christmas Eve or anytime during the holiday season.
23. Go on a family vacation over Christmas time
When the weather gets cold up north, most of us want to get out of down. Of course, it's always nice to be home for the holidays, but many may enjoy taking a trip down south. Start a family tradition where you go away every Christmas- the kids will thank you later!
I hope this gave you some great ideas of Christmas traditions to start as a family. What are some of your favorite traditions that you have done in past years?
Related post: How to Save Money This Holiday Season
Related Post: Best Unique Gifts For Your Toddler That Aren't Toys